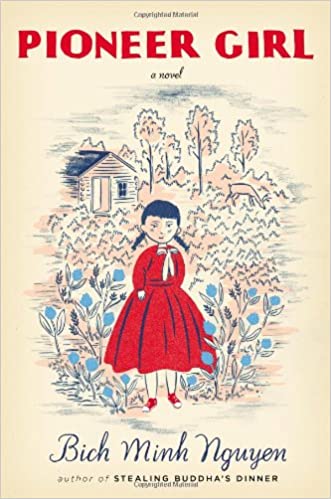 I'm so glad to finally discover the author Bich Minh Nguyen. I believe her name is pronounced Bik Min Ngwen. A refugee from Vietnam, she grew up in Michigan. I was interested to read her novel Pioneer Girl because, like the main character Lee Lien, I was also obsessed with the Little House books written by Laura Ingalls Wilder and her daughter Rose Wilder Lane.
Lee, home after earning a PhD in American literature but failing to land a job, discovers a brooch that a journalist named Rose left at her grandfather's Saigon café during the Vietnam war. The brooch looks remarkably like a brooch that Laura Ingalls Wilder owned and described in one of her books. Lee wonders—could this brooch have belonged to the real Rose Wilder Lane, who was indeed a journalist in Saigon during the Vietnam War? Lee sets off on a wild goose chase to figure out the answer, and also to escape the critical eye of her mother.
I got the sense that one reason for Lee's obsession with Laura and Rose is to find a connection between her murky past (she knows very little about her ancestors' lives in Vietnam) and a quintessential American figure. Lee asks herself, "How many times during the years of my Little House obsession had I pretended the pin was Laura's secret gift to me?" (p. 46). Later in the book she admits that she was "searching for, maybe hoping for, my own claim on America's favorite pioneer family" (p. 81).
For the rest of this article, please see my Second Generation Stories website.